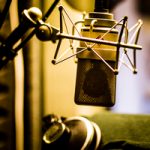 Weird words are the bane of any script for a voice talent if they don't know how to pronounce them correctly. Having to do an unpaid re-record as a result of a mispronounced word sucks.
If you're producing a script and your voice talent is unable to offer live direction (via phone, Skype, etc.) there are a few ways around weird words:
Include a phonetic spelling in brackets. Capitalize the syllable that needs to be stressed if that's important.
Send a recording of the word along with the script – you can send this attached as a mp3 recorded via your computer's built-in microphone or via something like whatsapp.
Send a YouTube link where the word is mentioned. Works well when it's the company name that needs to be pronounced correctly – if it's a listed company, CNBC or other business news channels are good for this kind of thing.
Good luck!