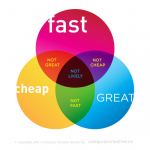 It's an tried and true axiom – there are 3 options in any business transaction.
Quality
Speed
Cost
Clients can have any 2, but never all 3. In our voice work, we do not compromise – we record with a Neumann TLM103 large diaphragm condenser microphone into a crisp Apogee preamp and directly into ProTools HD at 24-bit 48kHz – so Quality is non-negotiable.
Since a client can only have 2 of the 3, then it's a choice of whether they want it done quickly or cheaply. In most production workflows, audio production tends to happen at the end, and it's rare for producers to call us at the beginning of a project. The norm tends to be "we need this recorded in the next few days" or even "we need this recorded by tomorrow morning".
So they've chosen Speed over Cost.
Venn diagram from the lovely designers at Compass Creative Studio Inc