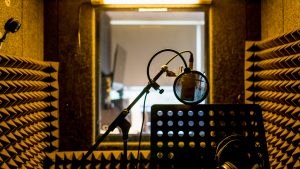 Twice this week I've had a prospective customer call up in a panic, telling me they need a voice recorded the same day.
The first one called at 9 pm Singapore time (UK-based client) so I told them that the earliest would be the following morning, to which they replied with a snarky,
"Thought you might have people who like to earn income for working evenings too."
The second prospective customer called saying their vendor had let them down, and they were willing to pay extra to get the chosen voice recorded today. I confirmed that the talent was available, quoted them a fair price, only to have them moan,
"I am amazed by the price – is that the best deal you can do? I can get this recorded via a freelancer website for $5."
When we get a same-day turnaround request, it's always because someone screwed up. Either a client fired a production company for non-delivery, posted the VO job on a forum for whoever can do an immediate delivery, and whoever got the nod then calls us, or a production company's voice provider screwed up and now they're going to miss their delivery deadline and risk facing the wrath of their client.
We always try to help when such requests come in, but being rude to us when we explain why we need more than 2 hours to turnaround (client 1) or the cost is higher (client 2) is a red flag for us, so we're happy not to get sucked into their self-created nightmare.