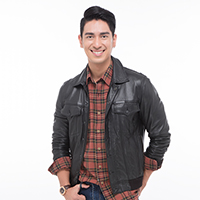 Divian's first foray into the entertainment industry began in 2007. His natural talent for hosting live shows on stage was noticed and within months he became a highly sought-after emcee.
Divian's versatility with his unique high energy baritone voice has made him a staple for voiceovers for clients of corporate companies and that makes him an established voiceover artist for over 10 years.
The main host of Starhub Supersports 360, the multi-talented Divian is also the CEO and Creative Director of his own agency "Storyteller Productions" where he conceptualizes, scripts and directs short films and commercial videos.
He was nominated best new comer in the Singapore radio awards within the first 10 months of his radio career and was voted into Cleo's prestigious 50 most eligible bachelors of 2011.
Equipped with boyishly good looks, a great baritone voice, a positive attitude, and a willingness to constantly improve, Divian is the entire package. He currently runs Storyteller Productions, a creative agency with an in house video production unit and an asset platform for social impact titled "We Are Majulah".
To make an enquiry, please send a message via WhatsApp or email.
DIVIAN NAIR is listed for the convenience of Splice Studios clients for voice sessions scheduled via Splice
Remote direction is available